Quality Wire EDM Services
MILCO Wire EDM - The Utmost Quality at the Most Competitive Price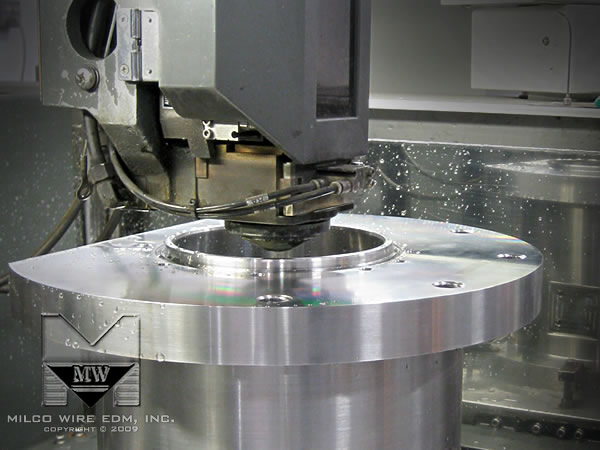 (Click image for full size)
Electrical Discharge Machining Services
Electrical Discharge Machining or EDM is a highly accurate method of part production. Wire EDM technology is essential for higher tolerance parts and repeatable tooling. Tolerances are held to +/- .0002" in our temperature controlled facility.
Here at MILCO Wire EDM, we have a variety of electrical discharge machining machines that include 6 Wire EDM Machines, 3 CNC Sinker EDM machines, and 3 Small Hole EDM drilling machines. This translates into an ability to produce precision parts for any application in the amount of time that you require. With the EDM process we are capable of cutting all types of conductive materials, from common metals such as tool steels, stainless steels and aluminums to exotic metals such as titanium, hastalloy, copper, brass, kovar, inconel, carbide, etc.
High Accuracy, Tighter Tolerances
Achieving high accuracy and tighter tolerances is essential for many industries such as Medical, Aerospace, Missile, Defense, Aeronautical, Satellite, Tool and Die, Stamping, Commercial, and Injection Molding. With Electrical Discharge Machining we can produce and repeat the required specifications with ease. Contact MILCO Wire EDM for all of your electrical discharge machining needs, including wire electrical discharge machining. MILCO Wire EDM have been far exceeding customers' and clients' standards, we hold a reputation of the fastest turnaround and highly competitive pricing.
Capabilities of our WIRE EDMs:
Wire diameters of: .004, .006, .008, .010, .012.

Wide / Large table travel up to 13.7" x 19.68".

Cutting head "Z axis" heights up to 11.8".

Up to 45 degree tapered cuts depending on workpiece height.

4 axis completely independent on all machines.

Top quality and modern 3R Tooling for convienient and expedited setups on production and protoype runs.

Automatic Threading capabilities aid in "lights out" and "around the clock" manufacturing.

Glass Scales "closed loop" for immaculate accuracy.

Multiple CAM softwares for increased adaptability of importing your part / files / drawings.

Computer vision measuring devices up to 75x to aid in thorough inspections.