Small Hole EDM Drilling Services
MILCO Wire EDM, Micro hole drilling experts...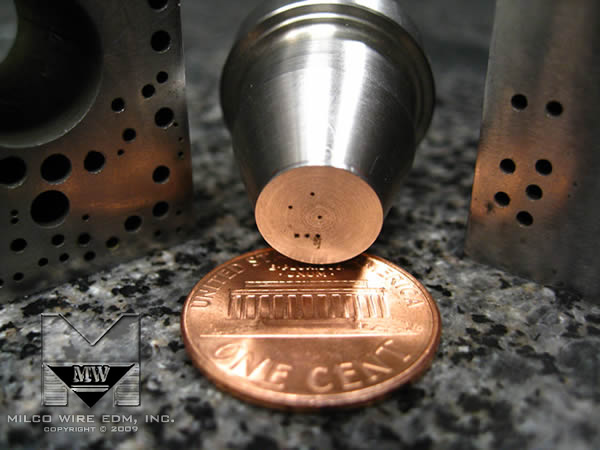 (Click image for full size)
Micro Hole Drilling, Fast Hole and Small Hole Drilling
MILCO Wire EDM uses top of the line and best in the industry small hole EDM machines. Our machines boast of CNC Programmable and Automatic Tool Changing Capabilities. We are constantly looking to go beyond our customers' expectations in small hole services. By being on the leading edge of the industry for micro hole, small hole and fast hole (high speed drilling) we have set ourselves apart from the competition. Small hole EDM, or EDM Hole burning compliments and aides our wire EDM machines by quickly generating starter holes through seemingly impossible-to-drill materials or thicknesses, greatly reducing cost and turnaround time for our customers.
Small hole EDM or EDM micro drill can add another layer to the vast array of services that MILCO offers.
Our machines are capable of:
Here at MILCO we also have the option to use a Single Hole or a Coreless (Multi-holed) electrode. This allows us to complete and excel in "Blind Hole" manufacturing without leaving a "slug" or excess material at the bottom of the hole. This alleviates secondary finishing and saves time and money!
Another Specialty that MILCO offers is "Angle Small Hole EDM Machining." If the part or application calls for a slanted hole on a specified angle or on a curved surface where conventional drilling would be exceptionally difficult and close to impossible.
If you have any questions concerning EDM hole burning or would like to submit a quotation, please let us know by clicking here.