Waterjet Machining Services
MILCO Waterjet - Abrasive Waterjet Cutting Experts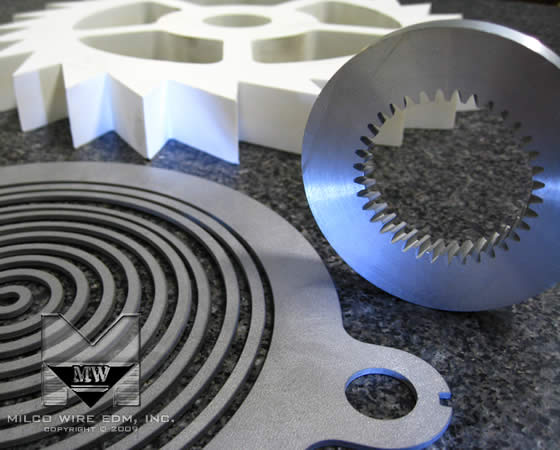 (Click image for full size)
Waterjet cutting is simply one of the most versatile and fastest growing machining processes around. Over 15 years of Waterjet cutting experience helps MILCO stay rooted in top quality service, along with the expertise to aid in making sure Waterjet cutting can benefit your unique job to the maximum potential. Here are some listed benefits to using Waterjet Cutting at MILCO Waterjet:
Amazing Quality Finish
Compared to saw cut, plasma cut, and laser cutting; waterjet cut finish stands alone. With a smoother more sandblasted look, free of burnt edges, chips, burrs, and slag: it can save the end user in unnecessary finishing cost.
Broad Range of Materials
Thick to thin, Hard to Soft, brittle to flexible, composites to acrylics, ceramics, metals, foams, rubbers, honeycombs, glass to fiberglass, granite, cement, marble, tile and wood. Even exotics are easy such as; G10, Kevlar, Mylar, Plastic, Polyethylene, Polyimide, Niobium, and laminates.
Minimal Lead Time
With very minimal tooling involved, waterjet has a natural tendency to employ fast set-ups and programming. In fact the tool path could be laid out by computer as to minimize scrap and unused material. This is called "nesting." The cutting speed of the head / nozzle is also calculated using precise software so the maximum speed per quality per material type and thickness is always optimized.
No Heat Affected Zone
Unlike laser or plasma cutting, where the cut areas material can become chemically altered due to heat, waterjet cut parts remain unaffected, due to the fact that water is the medium being used. This can be very critical on applications where the material cannot show any signs of burning or discoloration. Or on materials that cannot be cut with laser due to burning with toxins released into the atmosphere.
Flawless Programming
With final implementation and design involved, the end product looks exactly like the designer or engineer first imagined. Utilizing a comprehensive CAD program, or reverse engineering from a sample part all turn out quite easy. MILCO uses many different file extensions such as: dxf, iges, bitmap, jpg, ai, pdf, and dwg, along with many others not listed.
Environmentally Responsible
By using natural mediums such as garnet and water, no hazardous or toxic fumes are released, and the residual waste can be disposed of in public or municipal sites.
Please consider MILCO Waterjet to be your #1 Waterjet Machine Job shop. You can use the "Hot Quote" link to submit your quote to us right away!