Sinker EDM Machining
MILCO EDM - Conventional EDM machining, unsurpassed quality...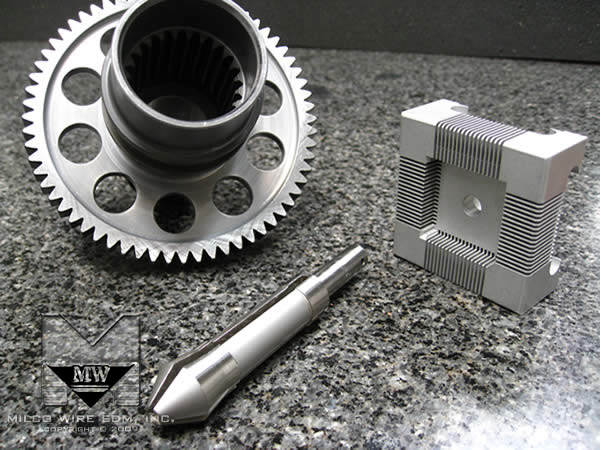 (Click image for full size)
Sinker EDM, Conventional EDM, Ram EDM, Plunge EDM and Die-Sinker are all one in the same. They can all be used to add another dimension in CNC Machining. This process uses custom machined electrodes that produce sparks alongside the surface of the electrode to machine, sink or plunge the cavity. The Sinker EDM process is very ideal for a wide variety of applications, such as:
Blind cavities

Intricate details

Sharp corners

Fine finishes (surface finishes to 10 micro-inch)

Thin walls

Machining threads into hardened parts

Blind keyways

Internal splines, squares, or hexes

Tolerances can be held to .0001"
Any conductive material can be machined using Conventional or Sinker EDM such as, but not limited to Aluminum, Brass, Carbide, Copper, Hastalloy, Inconel, Kovar, Stainless Steel, Tool Steels, and Titanium.
Electrodes for Sinker EDM machining are generally made from Copper, Graphite, or Tungsten depending upon work piece material and electrode wear requirements.
MILCO Wire EDM Uses 3 top of the line CNC Sinker EDM Machines that have a wide array of capabilities:
24 hour "lights out" manufacturing capabilities, for large order & fast turnaround machining

Automation capabilities with robotic tool changers from System3R

Standard Work envelope Capacity 18"x13"x24"

Repeatability of +/-.00005 for Rigorus Accuracy Demands

Total Machining Accuracy down to .0002"

Production Finishes down to 8RA
Electrodes for all the Sinker EDM machining Processes are typically made from Graphite, Copper and/or Tungsten depending specifically on the work piece material utilized for the job and the amount required for electrode wear.
Here at MILCO, We have full machining capabilities to design and manufacture our own electrodes. Therefore reducing turnaround time and avoiding costly outside processes.
If your Job, Part, or Application needs any Sinker EDM Expertise, Look to MILCO Wire EDM for the fastest and most reliable Sinker EDM Service around!