About Milco Wire EDM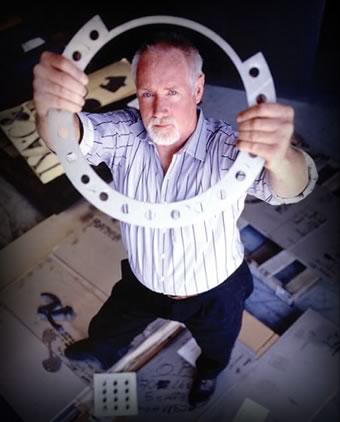 Many customers, companies and visionaries alike consider the importance of possibilities available to them at MILCO by combining or integrating various combinations of highly specialized machines, supported with ultra precise tooling and robotics, along with a highly trained and dedicated staff of personnel to run and oversee each customers satisfaction. After all, what customer wouldn't want faster turnaround time, optimum accuracy and cost effective prices? It is every machine shop owner's goal to provide this service to it's customers, Steve Miller, owner of MILCO Wire EDM, Inc./ DBA MILCO Waterjet is one such shop of that caliber.
Steve, who has been in business for over 25 years, started his career as a Tool and Die Apprentice. With his sharp intuitiveness and excellent foresight, Steve became even more fascinated with modern machining technology and the capabilities it brought to the manufacturing environment. Having realized the extensive possibilities of EDM machining, he decided to follow his dream of starting his own business.
Because MILCO's goal is to provide its customers with the fastest service and best possible prices, it has grown to become one of the leaders in the EDM machining industry. Although Steve Miller has gained great success thus far, he is still not one to rest. Having become very knowledgeable about the latest technology in waterjet cutting, he recognized the possibilities of combining all of his EDM machines along with the waterjet in order to provide a full service machine shop.
The Waterjet machine is able to do less critical portions of the job much faster, cheaper and easier, leaving the more critical cuts to the EDM machines. In the event that conventional machining is required, MILCO also has in-house capabilities. According to Steve, the Waterjet is so important for successful and affordable machining that he maintains "In the near future, if you have a band saw, you will soon be replacing it with a Waterjet machine". Waterjet cutting has been used primarily by Decorative Designers and Advertising Industries, however more and more larger aerospace companies now have a need for that service.
Milco Featured in CNC West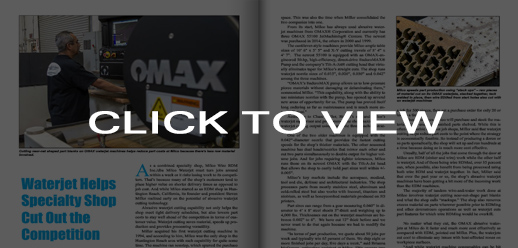 New Wire EDM Machine Now In Use!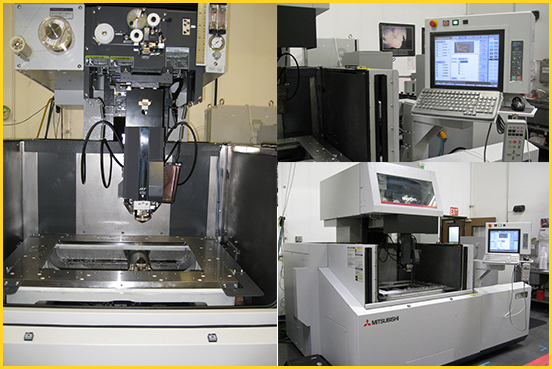 We have added a new wire edm machine (MV2400-ST) to increase our traveling capacity on X, Y and Z travels.
X= 16"
Y= 24"
Z= 16.5"
With new technology and faster cutting speeds, Milco can more efficiently and economically finish jobs quicker to save customers time and money.
MILCO is a "State of the Art" facility and one of the most innovative around. Located in beautiful and sunny Huntington Beach, Orange County, Southern California; we are nestled in a "Hot-Spot" alongside many other industrious companies such as The Boeing Company and the Seal Beach Naval Weapons Facility as well as Southern California Edison. Our neighbors include all sorts of businesses that deal in the mechanical, medical, automotive, machining, finishing, racing, designing and electrical industries.
MILCO is a "State of the Art" facility and one of the most innovative around. Our new 15,000 square foot building houses 10 CNC machines as well as 3 Waterjet machines. One thing that people notice when they come by our shop, is that they are made to feel valued, rather than "just a number". We work on projects that range from small runs up to much higher volume ones, but each client is treated with the same high standards and care.
Technology and tools may have changed over the years, but MILCO's high standards of work and craftsmanship haven't. We are specialists in EDM Machining including Wire EDM, Sinker EDM and EDM Small Hole Burning. We build a huge variety of parts for our clients ranging from every industry imaginable.
Our industry experience of over 25 years means you can be assured of quality and commitment you would expect from a partner. We pride ourselves in personal service—a refreshing change in today's tough business environment.
Thank you so much for taking the time to read and learn about our history and our beliefs as a company. If you have any questions or concerns, please let us know by using the following links below.