Employment Opportunities
High Precision Contract Manufacturing Machine Shop Offers New Career Opportunities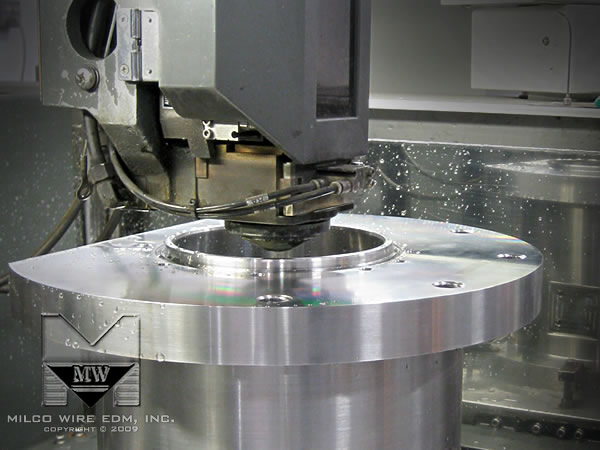 NOW HIRING EXPERIENCED EDM WIRE OPERATOR! CLICK HERE INFORMATION!
For nearly 25 years MILCO Wire EDM in Huntington Beach, (Orange County) California has offered hard working, motivated employees a wide range of career opportunities. We have found people with experience and passions in industries such as contract manufacturing, aerospace manufacturing, medical component field, commercial Die and Stamping, Design, Automotive and even Robotics.
Our 15,000 square foot facility is meticulously clean and on the cutting edge with a state-of-the-art, temperature controlled edm room, a spacious Cad / Programming room, along with an advanced waterjet machining and CNC machine shop, not to mention, Wire EDM, Micro hole EDM and Conventional / Sinker EDM. There are so many avenues an applicant can pursue. We specialize in manufacturing, micromachining and production for an endless amount of applications.
MILCO Wire EDM is currently hiring in these open job positions:
Wire EDM Operator / Machinist

Sinker EDM Operator / Machinist

CNC Mill Operator / Machinist

Tool and Die Maker / Apprentist

EDM Programmer / CNC CAD CAM Programmer
MILCO Wire EDM Inc., an ISO9001:2015, and AS9100:2016 certified company, is looking for quality, respectful and courteous people to join our dedicated team. As a full time employee you will be a part of history as we have made parts for high end and well known projects, such as the Mars Rover Vehicle and many others. As an employee at MILCO Wire EDM you can enjoy an excellent working environment and generous benefits, including:
Numerous Vacations

Paid Holidays

Medical

Dental

Paid Birthdays

Life Insurance

IRA [Simple IRA]
Please use the link below to print a copy in PDF Format of our Application. Please fill it out and return to our facility either by:
Fax: 714-373-1718

Email: info@milcowireedm.com

Direct Mail:

Attn: Human Resources
MILCO Wire EDM Inc.
15221 Connector Lane
Huntington Beach CA 92649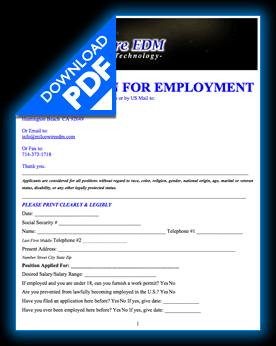 All applicants please note...
MILCO Wire EDM is an Equal Employment Opportunity Employer. Background checks and Drug Use Screening are required of all job applicants prior to hiring. MILCO Wire EDM conducts random drug screening to all of our employees. Resumes and/or applications are stored on file for a designated period of one (1) year maximum. Your resume and/or application will be reviewed promptly. If your qualifications match an opportunity within our organization, a representative from our Human Resources department will contact you promptly. Make sure you give us updated and current contact information, phone numbers, etc.
We here at MILCO Wire EDM Inc., thank you for your interest in our company. We wish you all the best in your career search and look forward to hearing from you.